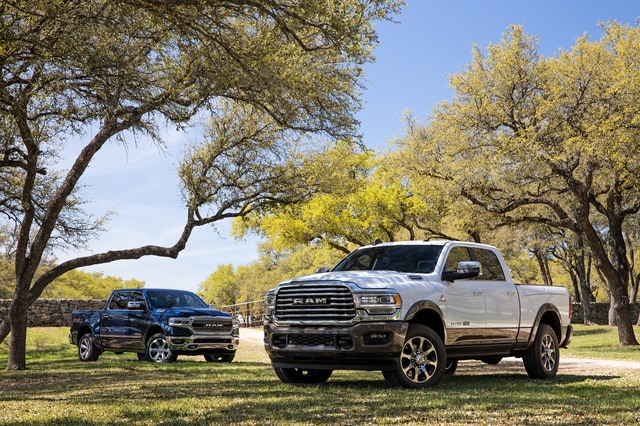 For the new truck buyers in San Jose who are searching for heavy-duty performance from a truck brand that carries a strong reputation for durability and power, our lineup of new RAM trucks will surprise you with an abundance of models and truck packages! If you require the top-notch capability for hauling work trailers or pulling the family camper to your favorite California camping destination, the RAM 2500 and RAM 3500 are the two amazing truck options. But what makes the RAM 2500 and RAM 3500 different?
Both heavy-duty RAM trucks offer a regular, Mega Cab or crew cab sizes with a six-foot or eight-foot truck bed box as well as 4x4 capability which is only available on the RAM Power Wagon package for the RAM 2500. The RAM 3500 offers dual rear wheels and also is capable of hauling loads weighing up to 35,100-lbs with a max payload of 7,680-lbs.
The RAM 2500 maxes out at a tow-rating of 19,780-lbs with a payload capacity of 4,050. Still substantial for a work truck or family adventure truck, however, if you're pulling heavier and larger loads on a frequent basis, it's recommended drivers opt for the RAM 3500 and the new 6.7-Liter Diesel engine which outperforms most with 1,000-lbs of torque.
Test Drive Your Prospected RAM Truck Today!
We can't wait to kick off your new truck search! Shop new RAM 2500 and RAM 3500 models with our team and learn more details about your prospected trim package. Call us today or stop by our dealership and we'll get you behind the steering wheel of your future truck!