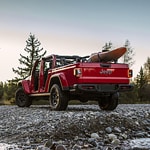 The 2023 Jeep Gladiator is one of the top trucks to watch this year. With a durable body, enhanced technology, and improved safety, the Gladiator is quickly garnering attention. When it comes to utility, this truck doesn't disappoint. If you're interested in getting behind the wheel of the Gladiator or you're just ready to learn more, keep reading for an overview of utility.
The New Jeep Gladiator: A Dive into Utility
Here are four utility features offered with the 2023 Gladiator:
Towing: The new Gladiator has impressive towing with up to 7,700 pounds.