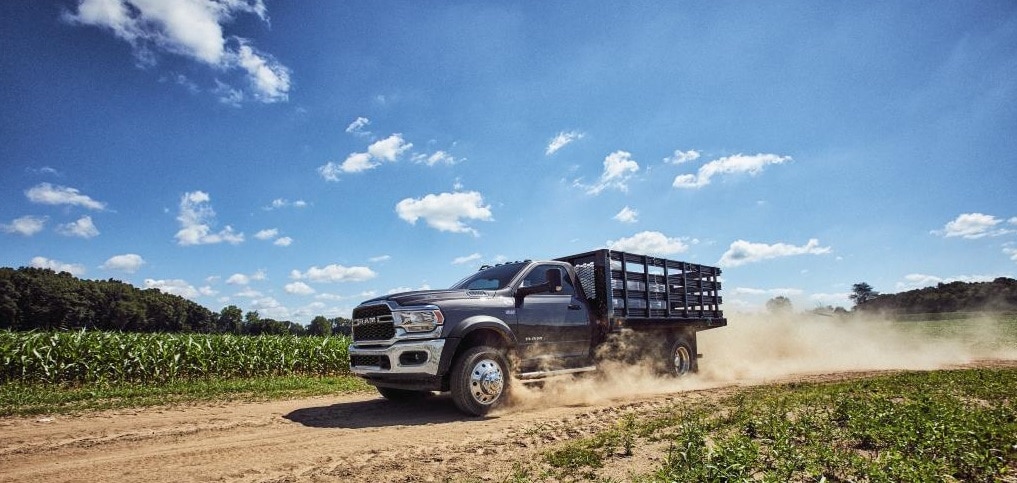 Ram Chassis Cab Trucks are Ready for Action in Salinas
Searching for the perfect commercial-grade truck for your work and AG duties? Don't miss the collection of powerful Ram chassis cab models we have available at MY Jeep Chrysler Dodge Ram, we have a great selection of work-ready Ram models on hand, and we want to help you get to know and select the best one for your needs.
Why Choose a Ram Chassis?
Ram is a name that drivers throughout the Morgan Hill area, and across the country, have grown to rely on, thanks to carmaker's signature engineering that artfully combines power with refinement and the latest features and amenities. Whether you're in search of the Ram 1500 do-anything, full-sized pickup that's easy to maneuver in traffic, or your work requires a heavy-duty machine that can handle tens of thousands of pounds of cargo, we have the styles and models our customers are looking for.
When you need a heavy-duty machine for agriculture or construction work, a Ram chassis cab truck is always a great option. These highly customizable trucks are often called "half trucks," because they give drivers a frontend that functions like a pickup, with a backend that can be customized with a range of upfitting options to suit your specific job tasks.
Ram Chassis Cab Models
At our Salinas dealership, we're proud to support our local customers in the greater Watsonville and Gonzales area as the local Ram AG dealer of choice, and we want to help you determine if this commercial truck is the right route for you.
There are a variety of chassis cab models to choose from, coming in at a range of price points and capabilities, with options including:
Ram 3500 10K Chassis Cab, which starts around $35,000 and has a total gross weight of 10,000 pounds
Ram 3500 Chassis Cab, starting around $35,000 and with a best-in-class utility rating for passengers, cargo, and trailer weight of 33,000 pounds
Ram 4500 Chassis Cab, starting at around $38,000 and with a gross combined rating of 37,750 pounds
Ram 5500 Chassis Cab, the largest beast of the bunch, starts at around $39,800 and has a utility rating around 43,000 pounds
Chassis Cab Trims and Configurations
As you can see, there are any number of powerful ways you can take advantage of the versatile chassis cab style to suit your needs. But, as with the regular lineup of traditional Ram pickup trucks, there are also a number of ways to customize each of these models, including various trim levels and cab styles.
In fact, at our expert commercial Ram center, we help drivers from Gilroy and beyond configure their truck with an array of options, including two cab styles (either a two-door regular cab or a four-door crew cab), four body lengths, nine wheelbase options, and a huge list of upfitting possibilities and powertrain options.
Let our professional team walk you through the entire roster of available models and trims to get you the perfect vehicle for your needs. With optional features that include larger, long-range gas tanks, intuitive touchscreen technology, and adaptive headlights that can turn up to 15 degrees for increased nighttime visibility, there are any number of ways to get the chassis cab style truck you need with the amenities and capabilities that make every task easier.

Find Your Next Commercial-Grade Ram in Salinas
Browse our current new model inventory to learn more about our entire selection of brand-new vehicles, including commercial quality Ram trucks and vans. We look forward to working with you and your business needs soon to get you the vehicle your work requires with the finance agreement that won't break the bank or ruin your bottom line.